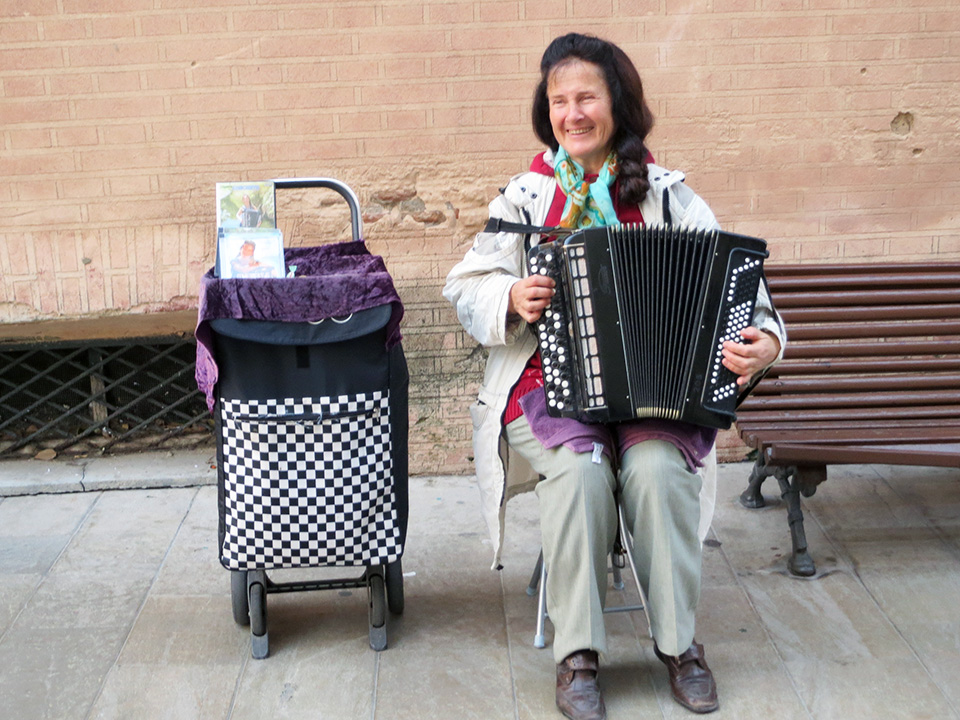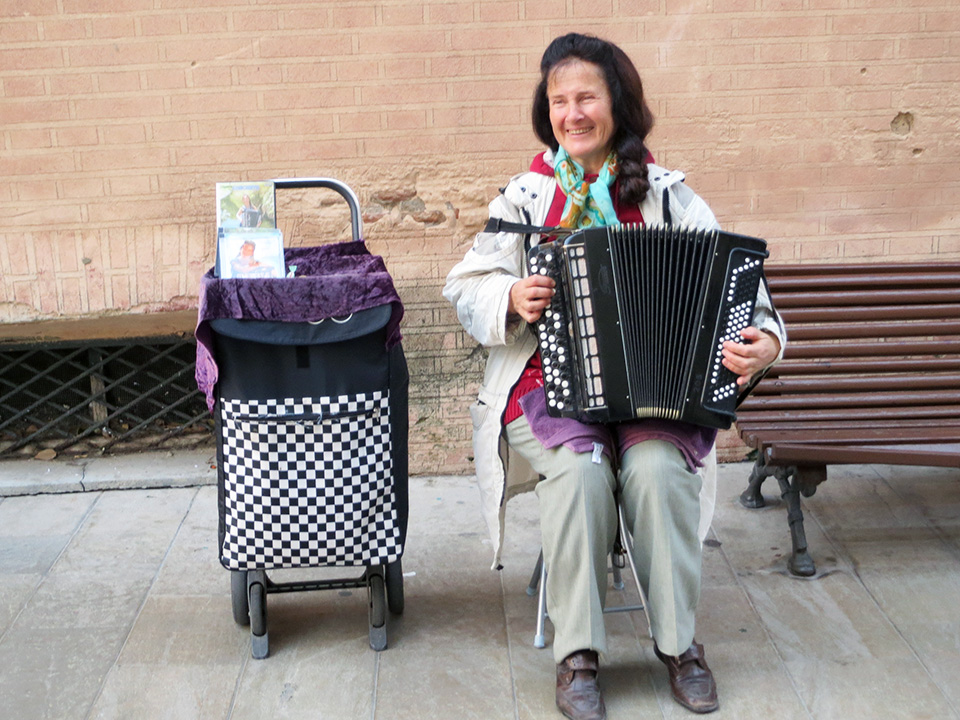 When we travelled to Málaga, on the southern coast of Spain, we thought the highlight of the trip would be Museo Picasso (The Picasso Museum), or perhaps Málaga Cathedral. But we were wrong. Oh, we loved seeing so many of Picasso's wondrous paintings, and bought prints that have been up on our walls at home ever since, and enjoyed the Roman and Phoenician ruins in the basement beneath the Museum, and then saw the stunning carvings on the choir stalls in the magnificent Gothic temple of the Cathedral, but what captivated us, most of all, at the time and ever since, when we think of Málaga, was sitting on a stool in the street outside the cathedral. And we heard it before we saw it.
It was singing. Opera. "Cara nome" from Verdi's, "Rigoletto", being sung by a woman, who was accompanying herself on an accordion. And she was good. Very good. And strangely, the accordion accompaniment worked as well. She was a mature woman with a mature voice – a rich, obviously well-trained, mezzo-soprano voice. And she was performing to an empty street, not a soul listening to her.
We hurried down the steps and stood two metres in front of her. When she finished the aria, we applauded, cried out, "Brava! Brava!" and asked for more. She smiled and nodded. My wife, Jane, took the photograph. The next piece was, amazingly, "The Toreador Song" from Bizet's "Carmen", which I knew, of course, and joined in, of course, singing bass-baritone to her tenor/soprano. She was delighted – in part, I'm sure, because while we were singing, people had appeared from around corners, down the street, and out of the doors of the Cathedral, forming a mini-crowd.
Her name was Elena, and in her younger days, she told us, she had sung in operas with Siviglia all'opera. So we chose a repertoire that we both knew and sang arias and choruses, from Verdi's "Aida", Mozart's "The Marriage of Figaro", Gounod's "Faust" – by which time the mini-crowd had swelled to a maxi-crowd – so we threw in a passionate version of "O sole mio", and ended with a rousing four-part rendition, sung by two voices and an accordion, of Verdi's famous chorus from "Nabucco", "Va Pensiero". A concert and a half that I will never forget. And the basket in her busking trolley, was brimming.

The human species
"There are two human species," says Avio, "Uomo Sapiens and Donna Sapiens. Donna Sapiens want the perfect man. This perfect man does not exist, so Donna Sapiens makes him grow and grow until he becomes a movie. She watch this movie every night. But the end is always the same - the man tell her that he love her and worship her and will spend his whole life to make her happy. This is the Donna Sapiens movie."
Posted: Tuesday 5 April 2022
Comments
Incredible!
I wish I was there to hear this spontaneous opera concert.
Interesting to know Elena's story, why she was there, what happened to her...

Posted:

2022-04-19 17:16

by

Natalia Valentino
---