"A feast of music, history, secrets and intrigue"
A gripping novel based on real people, real events, and true stories, in the lives of two of the greatest composers the world has ever known.
Hear Lynn talking about his new books with Sunny Chayes in Hollywood!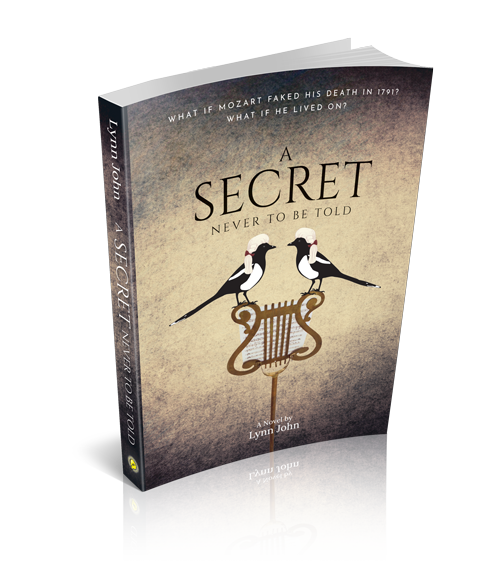 A conductor friend of an opera I was singing in, by the name of Eliano Mattiozzi, an Italian living in New Zealand, had suggested an idea to me one day after we had finished rehearsing the music of my cover role, Ferrando, in Opera New Zealand's production of Verdi's opera, 'Il Trovatore', two years before I had my heart by-pass operation.

"You're a writer, aren't you?" he asked me.
"Yes," I said.
"What would you say if I told you Mozart didn't die on December 5, 1791? That he faked his death and lived on?" he said.
"I can think of a number of reasons why Mozart may have faked his death," I said, "… his debts, The Freemasons, his affairs, his wife… but if he'd lived on, he wouldn't have kept quiet. He would have composed music."
"He did and he didn't," he said. "He composed with and through someone else."
"Who?" "Rossini."
"Gioacchino Rossini?"
"Yes. Gioacchino Antonio Rossini. I thought you might be interested in writing their story."
"… thought I might be interested?"
For the next two years, I researched the evidence for Eliano's claim, his assertion. One year focussing on Mozart, one year focussing on Rossini. But then, suddenly, tragically, during that time, Eliano died of a heart attack.
I finished the research just before my operation, and five weeks, five days and eighteen hours after my operation, I wrote the opening lines of the "Maestro" screenplay. And the words poured out of me. I couldn't stop them coming. It was like they were already there, sitting in my brain, and all I had to do was let them out. Six weeks later, I finished the first draft. It was a Friday. The next morning, Saturday morning, I started on my next story/screenplay. And that pattern, that condition, that obsession, that disease, has repeated itself, over and over, ever since. For over twenty years.
"A Secret Never to be Told" is the novel that came out of that "Maestro" screenplay: the story of Mozart and Rossini, two of the greatest composers the world has ever known.
"A beautiful story filled with brilliant music, sensuality, Italian mouth-watering 'food for angels'! It's a gripping tale that is full of earthy humour, deliciously funny. We are in the magical world of Italian opera: full of intrigue, passionate love, and gossip, a world so real and so colourful that you live in it! Bravo!" - Natalia Valentino
An outrageously funny story of pursuit, heartache and romance, from Wales to New Zealand, in the Swinging Sixties.
Sometimes truth is stranger than fiction...

The beating heart of this extraordinary novel is its realism, because it is essentially a true love story, with real people, real places, and real events.
It's a story that stretches across the world, across cultures.
It's an engrossing discovery of the extraordinary lengths to which our young Welsh protagonist is prepared to go – up and down the entire country in his bright-red sports car as he pursues his Kiwi love on her quest to win the Miss Zealand Beauty Contest.
It's a rollicking good laugh.
And, at last, we have a passionate love story from a man's point of view – a perfect antidote to "Fifty Shades of Grey".
Tender and sexy, fast-paced and hilarious, this real romp of a story has everyone rooting for our hero right to the irresistible end...
"Boyo makes that too-often-quoted cliché actually come true – once you start reading or watching, you can't stop till it's finished." - Mike French
Susan Mears Literary and Film Agency
susan@sm-agency.co.uk