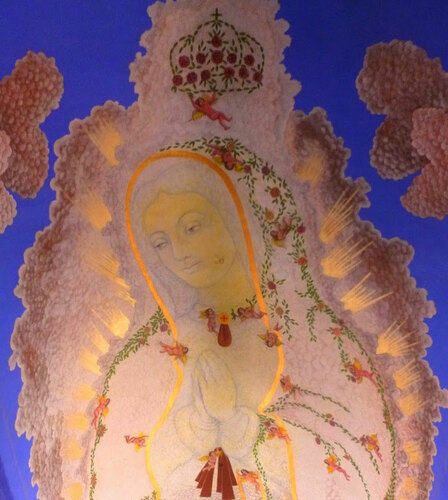 The bays of Huatulco were transformed in 1983, from scratch, by the Mexican Government, into a new designer resort, a west coast Cancun.
Huatulco has five beautiful little bays, steeply shelved beaches, a restaurant only five paces from the sea, with orange umbrellas and a Mexican singing 'La Gamba', slightly flat, tiny Indian women selling pearls and carvings, white condos stepping down the hills, and sun, glorious sun.
Locals and tourists alike lolled around, had their hair braided for $20, ate Camaron soup, Langosta salad, Ceviche fish, and drank Pina Coladas. And that's exactly what we did. While black, pterodactyl-winged Frigate Birds wheeled and soared, high, high above us, keeping watch. A wonderful morning.
After lunch we travelled by taxi to the neighbouring village of Crucecita, to the Church of Nuestra Señora de Guadalupe – isn't it a lovely name – stepped into the quiet, cool interior and stopped, then stared. Covering the whole ceiling – 285 square metres in area – was a painting of a single figure – the pregnant Mary, mother of Jesus, from the street entrance of the church on the east to above the altar at the opposite, west end of the church. The mural was painted by Mexican artist Jose del Signo and is about 30m long (92') and 285m2 (881 sq.ft.) in area
She lay full length, looking down at us, and in her womb was curled the foetus of Jesus, upside-down, ready to enter the birth canal. And inside Jesus, like another womb, was the sun, representing the Holy Ghost. Painted by Angel Del Signo Guembe – very appropriately named – in acrylics. The face of Mary is that of a Europeanised Mestizo woman, her hair picked out according to indigenous custom. In all my years of gazing at thousands of Roman Catholic images of the Madonna and Child, in Italy, France, Spain – the world over – I have never seen the like.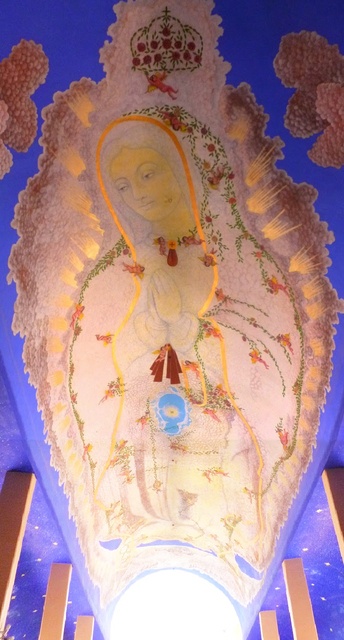 Then came the compulsory shopping. I liked the look of a blue t-shirt hanging outside a shop, and Maria, the shopkeeper, and I bargained like veterans. We agreed on price. But did it fit? It said Medium. I vary between Medium and Large depending on how svelte I'm feeling. So, had to try it on. But no changing room.
"Una momento!" cried Maria, saleswoman extraordinaire. She pulled the concertina front doors partly closed and created an improvised three-sided changing room. I pulled off my shirt and pulled on the Medium. She fished out a Large. It fitted.
"Shorts?" I asked. I hate Rapper shorts that balloon down to my calves. I like decently short shorts. None in the shop. But not-to-be-cheated-out-of-a-sale-Maria yanked out plastic bags, tipped them upside down and triumphantly brandished a decently short pair of short shorts. Blue. My colour. We bargained again. I had to try them on, of course. Now bare chest is one thing, but…
"Una momento!" cried Maria and she called her assistant, Anita, to help. "Serape," she said, "blanket," and grabbed one of those gloriously striped Mexican blankets that you see old men sitting under in every American Western film. Together they stretched the blanket across the fourth side of my changing room. I looked about the shop – no one but us three. I pulled down my pants – and then noticed that Maria and Anita, who were holding the ends of the blanket, were looking in, not out. Watching me. With no expression on their faces at all. Just mild interest. I laughed. They stared at me, impassive. But I'm pretty sure I heard the giggled word "Gringo" as I left with my new shirt and pants.
The taxi fare was a fixed price and our driver wasn't concerned at all about how long we dallied, how long we dawdled – he lived his life, he said, according to the traditional Mexican concept of 'mañana' – leaving until tomorrow what you can do today.
My Irish friend remarked, "You know, we live according to that 'mañana' idea back home in Ireland too – but without your Mexican sense of urgency."
Posted: Friday 22 July 2022