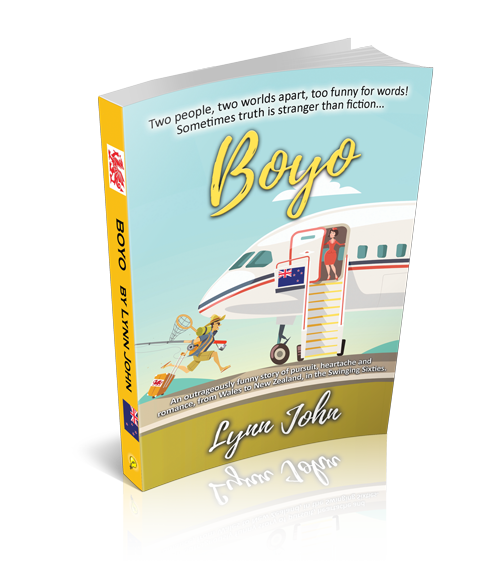 Mam didn't speak to me for a week after my news about going to New Zealand. In fact, she ignored me completely, as if I wasn't there, as if I'd already gone. Then early on a Wednesday morning, after breakfast, she suddenly seemed to recognise me. She smiled at me and said, "I need to get my hair done at 'Mair's'. Will you drive me there please?"
I swallowed. 'Mair's' was only one hundred yards down the road. Mam walked there. Always, "Of course," I said, "I'll get the car out and wait for you out front."
I opened the car door for her and she got in. I closed the door and walked around to the driver's side and got in. I switched on the engine.
Mam stretched her hand out and patted my hand on the gear lever. "Diolch, fychan," she said, and sat back, comfy, for the one hundred yards.
I pulled in at the kerb outside 'Mair's' and switched off the engine but Mam was already half out her door. She stood on the kerb, bent her head back into the car, said, "Wait here!" and disappeared inside.
I waited.
And a squeal of voices escalated out of 'Mair's' front door. Older voices and younger voices. All female. All talking at the same time. Then 'Mair's' front door suddenly burst open and Mam came out, dragging someone by the arm behind her.
Mam opened the car door, pulled the someone forward and pushed her into the car. Mam held the door open and stuck her head in. "Make a date!" she said. She slammed the door shut and was gone.
Well, what do you say? She was beautiful. No other word to describe her. About twenty, dark auburn hair, slim but with breasts jutting out under her uniform-cum-apron, huge, dark hazel-brown eyes, full lips. The full package really. And she was staring at me in embarrassment, her lips trembling - with fear or uncertainty or even excitement! Who knows? She lowered her eyes and stared at her hands that were clasped in front of her.
"She's a bugger, isn't she?" I said with a laugh.
"Yes..." she said, "er... no, I wouldn't call your mother that..."
"What would you call her then?"
"She talks about you often – whenever she comes in really."
"Does she? Look, I'm sorry – I'm Marc – and your name is...?"
"Linda."
"Hi Linda. You're a beautiful young woman and must have a horde of male admirers, but shall we take her up on her suggestion?"
She stared at me again. "Her suggestion?"
"'Make a date', Mam said. Would you like to go out with me sometime maybe?"
"Yes, I'd like that."
"There is something I must tell you upfront – and this may be jumping the gun, of course, because we have no idea if we will be able to stand the sight of one another after one night – but I'm off to New Zealand in a few weeks, so it... so we couldn't..."
"That's alright," she said, "I know. Your mother told me."
"Did she? Well, how about this Saturday? Are you free?"
"Yes, I'm free."
"Great, I'll pick you up at seven, say..."
"I live in Llansamlet, 14 Croeso Road."
"I know the area... but do me a favour please, when you go back in."
"A favour?"
"Yes. Mam will ask you what happened as soon as you get inside and I'd really like you to say to her, 'No, sorry, Mrs Thomas, it can't work.' 'Can't work?' she'll say. 'No,' tell her, 'he's gay.'"
She gasped. "I can't say that!"
"Please... please do this one thing for me – oh, by the way, I'm not... not gay – but she deserves it. Please say you'll do it..."
You could have heard the scream from our house, a hundred yards away.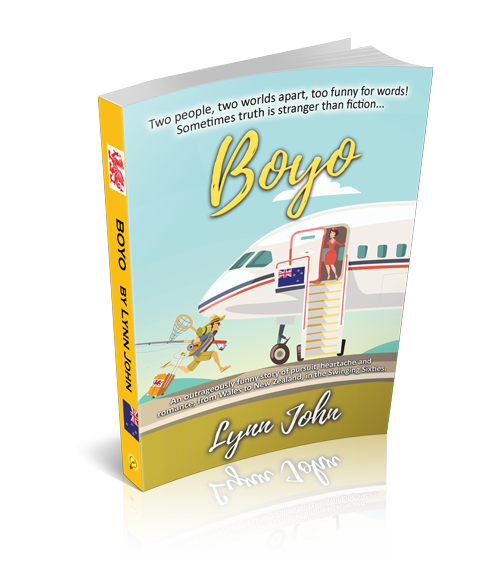 Pre-order "Boyo" now!
"Boyo makes that too-often-quoted cliché actually come true – once you start reading or watching, you can't stop till it's finished." – Mike French
Books will be shipped from late May. Reserve your copy now.


Posted: Friday 13 May 2022